Purple potato flower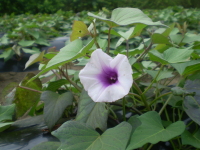 Since sweet potatoes belong to the same Convolvulaceae family as morning glory, flowers similar to morning glory bloom.
This flower is Purple Sweet Road.
It is indistinguishable from other sweet potato flowers.
The vines and leaves can be used to distinguish varieties.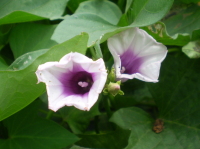 Purple Sweet Potato Powder
Additive-free purple imo (potato) powder 100% from Tanegashima, Kagoshima
Because it is heat-treated, you can eat it just by adding water.
For making sweets and bread, and put it in yogurt delicious.
As it is a natural pigment anthocyanin, you can use it with confidence. Adding lemon juice will increase the redness, and adding egg white will increase the blueness, so please try to make confectionery. Children will also be wondering and having fun.
Raw material origin: Tanegashima, Kagoshima Prefecture