Do sweet potatoes bloom? In response to the question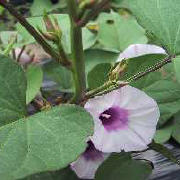 Flowers bloom on sweet potatoes. Most of the flowers are light pink in the shape of a small morning glory.
It blooms well in the tropics and subtropics and bears fruit, but in Japan it does not bloom under normal conditions except in Okinawa Prefecture. However, it may bloom depending on the conditions.
This is a phenomenon caused by being placed in an environment where vegetative growth (potato enlargement) is not possible, according to experts.
・ Flowers may bloom in drought years, and even sweet potatoes bloom.
・ In cases where red soil is used for multiple applications, fertilizer is less applied, and rainfall is also less.
The growth of vines may be delayed and flowering may occur.
・ In addition, if you get sick or if you bite a potato by a mouse, it may bloom in the same way.
Purple Sweet Potato Powder
Additive-free purple imo (potato) powder 100% from Tanegashima, Kagoshima
Because it is heat-treated, you can eat it just by adding water.
For making sweets and bread, and put it in yogurt delicious.
As it is a natural pigment anthocyanin, you can use it with confidence. Adding lemon juice will increase the redness, and adding egg white will increase the blueness, so please try to make confectionery. Children will also be wondering and having fun.
Raw material origin: Tanegashima, Kagoshima Prefecture